Monday, November 16th, 2015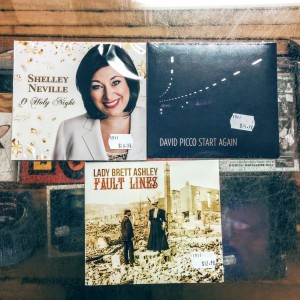 It's been a busy week in new releases here at Fred's! Fresh in, fresher than the first snow, Spirit of Newfoundland leading lady released her debut "O Holy Night." A Christmas Gem.
Also new and out now, David Picco "Start Again", featuring local heavies Brad Power, Chris Donelly, and brother Chris Picco. A retro sounding singer-songwriter 10 song CD – think classic 70s and 80s rock – catchy and tight.
And, of course, the new CD from Lady Brett Ashley "Fault Lines", which they launched in grand style with a killer in-store performance (you can see
the video in our feed below). Evocative keyboards, sumptuous bass, atmospheric percussion and vocals that pull you in, let you go, as haunting and compelling as a St. John's autumn gust.
These releases – like all our local releases – are available in-store and online (http://bit.ly/1LiFuOY)