Who We Are
Located in historic downtown St. John's, Newfoundland Fred's Records opened its door in 1972. Specializing in Newfoundland and Irish Traditional music Fred's carries a wide selection of all genres and our staff is the most knowledgeable in the province. We have always been St. John's leading record store catering to everyone from the casual listener to the die hard music aficionado. Fred's is a can't miss destination on your visit to St. John's.
But like any great business – we're only as good as our staff (but luckily, we have the best staff anywhere!) Click on their pictures to see each staff member's favourite local releases.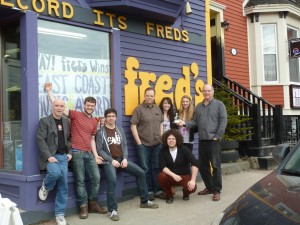 MEET THE STAFF


Tony Ploughman
Got into the music business accidently on purpose. Published poet (NL., QC. and Phil. PA.). 6 plus years as Art Gallery 'jack of all trades' promoting Christopher and Mary Pratt, David Blackwood and periodical "Group Of Seven" works to name a few. Bartender by night, making friends with local musicians in 1980. Hired by Fred's Sept. 1984. Asked to stick around till Christmas. Inventor of the Fred's Records 'blurb'. Not interested in a gold or silver watch… allergic to gold and silver.


Steve Hussey
Record Store GAWD! Sideman to the stars and blues snob more guitars than you can shake a pick at.

Matt Hender
One of a long series of bass players but the only Turkey farmer on staff, Matt Hender is a 70s guy in 00s world. Funkadelic haircut too. Super friendly and huggy, and the wearer of an ever-expanding and oft-contracting afro.

Tasha Power
Likes her 'Tasha' without the 'Na'. Likes her coffee like she likes her music; strong, black and bold. Bay girl soul sister and Fred's artistic eye.

Katie Predham
Pine Top Kate, she can roll the 88's. Shopping at Fred's since she was two weeks old. T-Pow's partner in crime.

Elliott Butt
Our long-haired keeper of the files and office monk. Likely to converse with you through song and harmonize with your very soul.


Alex Rumboldt
More experimental than a science fair, ain't no one's coat got mo flair.


Brad Pretty
Bearded and blazer-wearing brodudeman. Loves guitar pedals and cardigans. Web-guy.


Chris Ryan
Resident dark disciple of all things metal and German (and he's fluent!). Afraid of scary movies.

Jim Brokenshire
Classical enthusiast. Here at the beginning. Brother of Fred.

PAST STAFFERS
Just a few of the friendly faces we've had the pleasure of working with over the years.

Matthew Hornell
Matt as we knew him, is a singer-songwriter that has blown away many new fans in the past few years. His debut album won four Music NL awards including Entertainer of the Year and the Rising Star Award. He currently lives in Halifax and we wish him all the best in his music career.
Matt's website
"Have It All" in our store

Damhnait Doyle
Damhnait (pronounced Dav-net) was discovered when singing while working her shift at Fred's. She has since released numbers albums on EMI Canada and co-fronted the singer-super group Shaye. She currently lives in Toronto where she has an amazing new band called The Heartbroken that you all should check out.
The Heartbroken's website
The Heartbroken's "Tonight Tonight" in our store

Andrew James O'Brien
The Man of a Thousand Nicknames, this gentle beast will sooth your soul with a nice song or he'd just ring in your purchase, he was cool like that. Currently playing with "Fortunate Ones", he's another jet-setting former Fred's employee.
Fortunate Ones
"Songs for Searchers" in our store

Lee Hanlon
Lee Hanlon was one of our most memorable characters at Fred's Records. A well known indie-musician locally, he moved to Toronto a couple years back with his band The Gramercy Riffs, who have since released the great albums "It's Heartbreak" and "Desire Trails."
Gramercy Riffs website
"Desire Trails" in our store

Daniel Banoub
Another member of The Gramercy Riffs, Daniel Banoub is one of our city's finest guitar players, that was until he moved to Toronto to finish his education and pursue music. He can often be seen picking up some shifts when he is home for the holidays at Christmas time.
Gramercy Riffs website
"It's Heartbreak" in our store

Ren Squires
Ren Squires worked with Fred's Records for many years. A true authority on music, Ren's deep passions were for all things metal, and he helped us stock one of the best selections of metal and heavy music anywhere. Ren was also the drummer in stoner rock band sHeavy, who are still going strong 20 years in (albeit with a different drummer). Sheavy's legend among stoner rock fans endures and the band continues to release great albums.
Sheavy wikipedia page

Mack Furlong
Mack Furlong is a writer, actor and musician. He lives in St. John's and has had an irritating life-long ability to remember all manner of useless information – just the qualification necessary for a trivia panelist. Every third Friday, Mack co-hosts Crosstalk trivia. Mack once hosted The Great Eastern, an hour long show on CBC Radio One. He continues to be a force on CBC Radio and is a huge authority on music from this province past and present.